*Goats and Heifers Available*

.

We have Angus x Jersey May heifers available

Transportation from South Dakota to Florida with points in between available for goats and horses

If there is something you'd love to add to your herd give us a call.

Thank You everyone who purchased goats and cows from us!




We raise Registered Lamancha Dairy Goats and Jersey Dairy Cattle milking year around on DHIA milk test.

Quality Breeding stock available year around.

Check out the kidding pages for what's available for new babies, new pictures.


A Pair of Champions!
Black Satin, Onyx with Kelsey's Best in Show Cavy
Need a 4-H/FFA Project?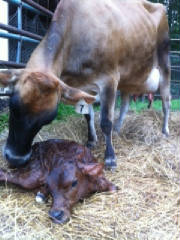 Blue Moon Dairy
Rapid City, South Dakota
Dave and Rachel Petersen
*
Phone: 907-354-7600