*Goat and Cow Shares Available*
Please visit the goatcow share page for more information then email us for a contract.
We have 2 new purebred Holstein cows due to freshen any day now. Updates when Bella and Elvis have their calves!
If there is something you'd love to add to your herd give us a call.
Thank You everyone who purchased goats from us!



We raise Registered Dairy Goats and Dairy Cattle in a number of breeds, milking year around.

Quality Breeding stock available year around.

Check out the kidding pages for what's available for new babies, new pictures, show-stopping breeding stock.

A Pair of Champions!
Black Satin, Onyx with Kelsey's Best in Show Cavy
Need a 4-H/FFA Project?
New babies being born every month. Contact us to come see'em!
Registered Jersey cow, Everest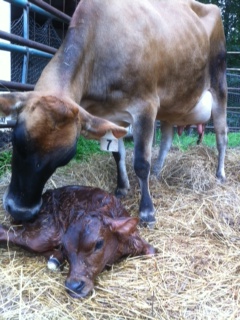 Blue Moon Dairy
Wasilla, Alaska 99654
Dave and Rachel Petersen
Kelsey and David Hecker
Phone: 907-373-9875